Park Regis Kris Kin Hotel: Apply Now Working at the Upscale 5-star Hotels in Bur Dubai
Park Regis Kris Kin Hotel Dubai is a 5-star hotel with a very convenient location, which is located in the city of Dubai (Bur Dubai). The closest tourist areas include: Burjuman and Dubai Museum within a 5-minute drive, Port Rashid within 3.13 km, Majlis Gallery (about 1.51 km), Sheikh Mohammed Centre for Cultural Understanding (1.61 km), and only 0.2 Km from the city center.
Guests staying at this hotel can take a walk to enjoy the beauty and splendor of some of the city's popular attractions such as: Burjuman Center, Wonder Bus Tours, and Burjuman.
Located at the address: Sheikh Khalifa Bin Zayed St, is a residence that prioritizes super detailed service quality from all sides, not only excellent service this hotel has excellent facilities to accompany when guests stay at this hotel, making the stay more memorable and unforgettable.
About Jobs Opportunities:
Name of Company: Park Regis Kris Kin Hotel Dubai
Primary Sector: Leisure Facilities & Services
Job Profile: 4 Open Jobs
Salary: Salaries posted Anonymous by Park Regis Kris Kin Hotel Recruiting
Name of Recruitment: Hospitality Jobs in Dubai | Careers at Park Regis Kris Kin
Job Location: Jobs In Dubai
Job Type: Full time
Nationality: Selective
Education: High School or equivalent
Experience: Mandatory
Benefits: As Per UAE Labor Law
Last Updated on: 23th April 2022
Closing date: Not specified
List Of Park Regis Kris Kin Hotel Jobs Opportunities:
Currently, Park Regis Kris Kin Hotel Dubai is re-opening the latest job vacancies in 2022. Below are the positions currently available, for those of you job seekers who are interested in developing your career with Park Regis Kris Kin Hotel Dubai, the following is a list of PRKKH Dubai job opportunities that are currently open:
Chef De Partie – Asian (Sushi & Wok)
Arabic Specialty Chef
Chef De Partie – Hot Kitchen
Chef De Partie – Pastry
How to Apply for a job
Application Instruction:
Apply Online: Park Regis Kris Kin Hotel Dubai Jobs Vacancies 2022
Email: [email protected]
Some companies that you want to send a job application letter to usually ask you to send your CV via email. If you meet the qualifications/requirements of the PRKKH Dubai job vacancy that is currently open, then please send your latest job application letter to the official PRKKH Dubai Email address that has been we provide above.
PRKKH Dubai new employee admission process is FREE! No charge whatsoever. The candidate's summoning process is contacted directly by the company, if within 14 days from the closing date of the job opening that is currently open you do not get a job interview call, it is with a heavy heart that we convey to you, that the job application letter you sent was rejected. Writing tests and interviews are conducted directly by the company.
Disclaimer: Please be aware of fraud, the employee recruitment process is generally free of charge!
Source Information: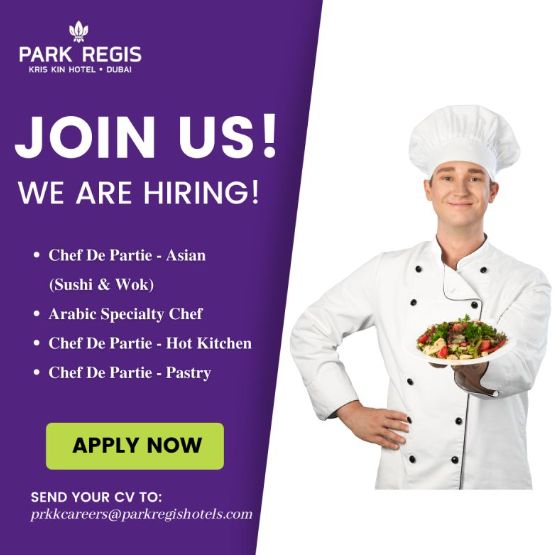 Good Luck To You
Jobs Archives Park Regis Kris Kin Hotel Dubai